Italian Intermezzo - Small Group, Winter 2021 2022 Small Group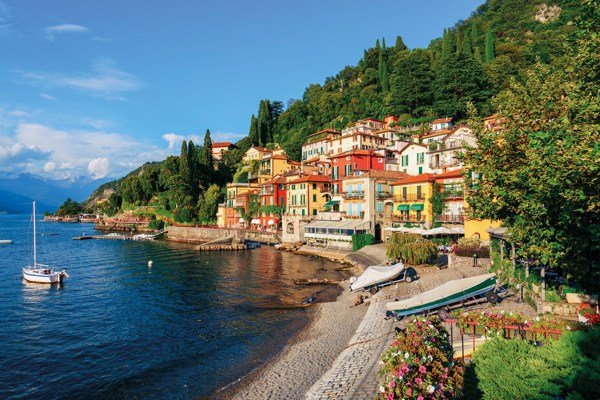 Italian Intermezzo - Small Group, Winter 2021 2022 Small Group
Travel from the shores of Venice to the ancient city of Rome on this 8-day guided tour of Italy. Begin your journey in Milan, where a festive feast - complete with decadent Italian wines - awaits you on the shores of Lake Como. In Venice, relax on a private boat as you pass by its iconic floating houses to St. Mark's Square, where you will see a gilded basilica anchoring the bustling piazza. Later, take a traditional gondola ride and sail through the canals as your Italian gondolier serenades you with songs. See the legendary Colosseum in Rome, then travel to the Vatican Museums, where a Local Expert will lead you through the papal art collection and to Michelangelo's Sistine Chapel. Dine in the Pope's garden, beneath the cupola of St. Peter's Basilica, and celebrate a fantastic trip.
Choice Highlights
Choose between two carefully selected activities
Florence: Wander through the market stalls and browse for local Italian souvenirs and leather goods on a guided shopping tour.
Well-being
: Our Well-Being Directors take a proactive approach to your welfare ensuring all well-being regulations are met (available on tours with 21 or more guests).
: Enjoy the comfort of Insight's luxurious, air-conditioned, 40-seat coach with double the standard legroom and onboard washroom. Our customized luxury coaches are sanitized before the start of your tour and are maintained to very high standards. Physical distancing measures have been implemented on our customized luxury coaches.
: Experience enhanced hygiene protocols to align with the latest guidance following COVID-19.All Travel Directors, Well-Being Directors and Drivers have completed training in enhanced well-being and hygiene protocols.
: We only work with establishments we are confident will consistently adhere to our high well-being standards, which include hotels, restaurants and sight-seeing venues.
: Hand sanitizer is freely available on board for you to use throughout the day.
Travel Director
: "One food I really love introducing my guests to is tramezzini sandwiches because they are a real art form in Venice. For the locals it is a quick inexpensive bite to get them through the day...best eaten standing up at the bar!"
: "Venice is so unique that anyone seeing it for the first time is never fully prepared for the magic, from seeing their first gondola to the facade of St. Mark's Cathedral."
: "I really love about showing guests the huge variety that Italy has to offer, from quaint countryside villages to cities full of stupendous art and architecture."
Authentic Dining
Milan: Enjoy a special Welcome Dinner with wine, as you get to know your fellow travellers.
Florence: During dinner, meet a sommelier who will talk you through a tasting of some of Tuscan's finest wines.
Rome: Enjoy a Celebration Dinner of delicious Italian cuisine and wine, accompanied by the rich tremolo of some of Italy's best loved songs.
Dining Summary: 7 Breakfast (B), and 3 Dinner with Wine (DW)
Top Rated Highlights
Venice: With your Travel Director cruise to St. Mark's Square and see the Doge's Palace, Bridge of Sighs and St. Mark's Basilica.
Venice: Delight in the magic of this charming city as you are serenaded, travelling through the atmospheric canals by gondola.
Pisa: Your Local Expert will show you the baptistery bristling with marble spines, the colonnaded bell tower lurching behind the 11th century cathedral and of course, the famous Leaning Tower in the Square of Miracles.
Florence: Wander through the market stalls and browse for local Italian souvenirs and leather goods on a guided shopping tour.
Florence: Join a Local Expert to view the multi-coloured marble cathedral, bell tower and baptistery, adorned by Ghiberti's Gates of Paradise. Visit the political heart of the city, Signoria Square. See the area around Santa Croce Basilica, famous for the quality of its luxury goods.
Florence: See the area around Santa Croce Basilica, famous for the quality of its luxury goods and witness a gold and leather-work demonstration.
Orvieto: During your orientation of this Umbrian hilltop town with your Travel Director, visit Piazza del Duomo to admire the cathedral.
Make Travel Matter
Venice: Witness the ancient skill of glassblowing, now practised by precious few masters. Watch artisans create delicate works of art using rare traditional practices. The workshops master craftsmen teach visitors about the traditional craft of glassblowing and its history which dates back to the 15th century. Every visit helps to support the workshop and the survival of this traditional craft. The workshop advances UN Sustainable Development Goal 11: Sustainable Cities and Communities.
Insight Experiences
Vatican City: Gain priority access into the Vatican Museums and admire the famous Bramante Staircase. Witness the genius of Michelangelo in the Sistine Chapel and view the splendid dome of St. Peter's Basilica.
Additional Included Highlights
Our highly-skilled Travel Director will ensure your journey is seamless, serving as your expert guide, consummate organiser, and friend overseas.
Personal radio headsets give you the freedom to wander during visits to famous highlights, without missing any of your Local Expert's fascinating commentary.
We carry your bags for you and promptly deliver them to your hotel door.
Hotel and restaurant tips are included - you'll never have to worry about how much to give, nor search for foreign currency. We also include all taxes and porterage charges at hotels.
Stay connected with friends and family with our complimentary coach and hotel...
At Insight Vacations, we have been in the business of creating magical experiences for travelers for over 40 years. But for us, it's never been just a business. Travel in its truest sense - not just going to incredible places, but really connecting with them, in an authentic way - is both a joy and a personal passion, for every member of our team. Let us share that passion with you. We'll take you on an unforgettable journey. We'll immerse you in unique experiences, and we'll introduce you to am
...